Location
2372 Torrance Blvd Torrance, CA 90501-2540
We are located on the south side of Torrance Blvd, two blocks east of Crenshaw Blvd, just before the railroad tracks. We are between the Family & Cosmetic Dentistry building & the Post Insurance building.
There is some parking available on the street. Alternatively, you can park in our private parking lot behind our building, easily accessible from Acacia Street. We have one handicapped parking space located in our lot right next to our handicapped accessible ramp.
Directions
From the San Diego Fwy (405) - Exit on Crenshaw Blvd, go south on Crenshaw Blvd and turn left onto Torrance Blvd. We will be on the right, about two blocks down.
From the Harbor Fwy (110) - Exit on Torrance Blvd, go west toward the ocean. After crossing Western, continue about 3/4 mile. Cross the railroad tracks. Go one short block to Acacia. Turn left on Acacia to access our rear parking lot.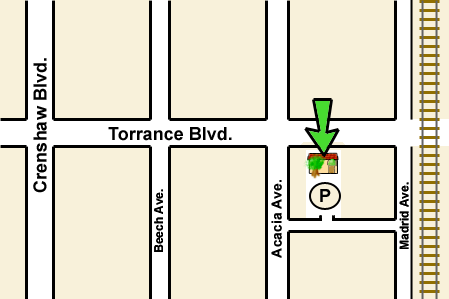 Here is a map of the area around our office.